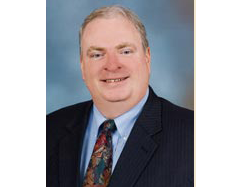 Michael D. McPhillips, Tax Partner,Estate and Succession Planning and Probate Administration
E-Mail: [email protected]
Michael D. McPhillips is a tax partner of Brenner Kaprosy Mitchell, L.L.P.  His practice includes tax and estate planning and trust, estate and probate administration, including the development of estate plans for the preservation of family wealth, succession of family businesses, charitable planning and advising fiduciaries on complex tax and administration issues.
Mr. McPhillips drafts taxed-advantaged trust structures and advises on sophisticated business succession techniques.  He assists his clients regarding choice of entity planning, charitable giving and life insurance planning.
His transactional tax practice includes assisting clients with entity selection and organization, concentrating on structuring transactions with a view toward maximizing tax benefits and achieving overall economic and ownership objectives.  He uses his accounting background extensively in assisting clients with their tax and business matters.
Mr. McPhillips has represented taxpayers before the Internal Revenue Service at the audit and appeal levels.  In addition, he has assisted clients at the audit level before the Ohio Department of Taxation and with local tax authorities.
Mr. McPhillips is also a certified public accountant and began his career as a tax manager for the accounting firm of Hausser & Taylor LLP in Cleveland, where he gained comprehensive experience in preparation and review of tax returns.  In 1996, he joined the law firm of McGinty, Gibbons, Hilow & Spellacy Co. LP.A. in Cleveland as an associate and dealt primarily with structuring business acquisitions and divestitures, business successions and estate planning.  He partnered with R. Chad Brenner, David V. Kaprosy and T. David Mitchell in 2006.
Bar Admissions
Ohio, 1990
U.S. District Court of the Northern District of Ohio
Florida, 2005
U.S. Tax Court
U.S. Federal Court of Claims
South Dakota, 2007

Professional Affiliations
Florida Bar Association
Certified Public Accountant (Ohio), 1985
Education
John Carroll University, University Heights, Ohio, 1983
Bachelor of Science
Weatherhead School of Management at Case Western Reserve University, Cleveland, Ohio, 1984
Masters of Accountancy with Concentration in Taxation
Cleveland-Marshall College of Law, Cleveland, Ohio, 1990
Juris Doctorate
Books by Michael D. McPhillips, Tax Partner,Estate and Succession Planning and Probate Administration